A Message from our CEO Literacy Coalition Recognized In Top 2% of Charities Nationwide
January 1, 2016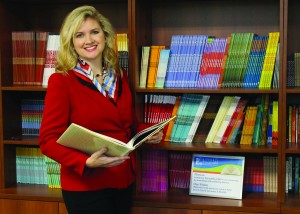 Leading through Reading has been the tagline of the Literacy Coalition since 2009. It represents that we are leading adults, children and families to gain literacy skills and empowering them to succeed in life as they embrace reading in their daily lives as students, employees, parents and citizens.
Through extensive outreach and collaboration with a network of community partners, the Literacy Coalition is working to address these needs with services by our Literacy AmeriCorps, Adult and Family Literacy programs and Children's Literacy programs like Budding Readers, Reach Out and Read and Building Better Readers, which support our efforts with the National Campaign for Grade Level Reading.
We are excited to announce a fantastic event season to celebrate reading and support literacy. Please join us to be a part of this important chapter as we work toward improving the quality of life in our community by promoting and achieving literacy.

Literacy Coalition Recognized In Top 2% of Charities Nationwide
The Literacy Coalition has earned our seventh consecutive 4-star rating from Charity Navigator. Receiving four out of a possible four stars indicates that our organization adheres to good governance and other best practices that minimize the chance of unethical activities and consistently executes our mission in a fiscally responsible way. Only 2% of the charities rated have received at least 7 consecutive 4-star evaluations, indicating that the Literacy Coalition of Palm Beach County outperforms most other charities in America. This "exceptional" designation differentiates the Literacy Coalition of Palm Beach County from its peers and demonstrates to the public it is worthy of your trust.
— Kristin Calder