Literacy AmeriCorps, Boynton Beach City Library
May 23, 2016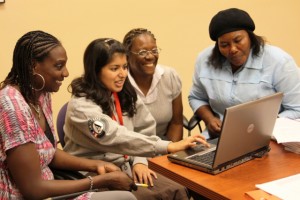 AmeriCorps members are a vital part of helping to improve literacy in Palm Beach County. These hardworking college grads work with agencies across our community to improve reading outcomes for children and adults.
Boynton Beach City Library is one of our partners in the program. Anne Watts, assistant library director at
 Boynton Beach City Library, explains how AmeriCorps members contribute to the community, summarizing our Members: "They are about as good as it gets!"
The Boynton Beach City Library has had a long-standing relationship with the Literacy Coalition and AmeriCorps. In 2015, three AmeriCorps Members were placed at our site: one serving elementary aged students, another teens, and a third adult learners. Most of our students live in our immediate neighborhood or attend a neighborhood school.
Our program began incrementally with the assignment of our first Homework Helper in 2009. Since that lucky day, we have had a Member assist elementary school students with homework, reading, and math on a daily basis. Assistance is provided by appointment (made by parents) or when the students arrive after school. Homework and reading assistance also continues during the summer. More than 400 elementary students receive assistance during the year. AmeriCorps members assigned to other sites help in the early evening as their schedule permits.
Our teen program began this year and has grown all year long. The teens have asked for homework help, assistance in preparing for ACT/SAT exams, and college essays. They meet in an area that offers them more privacy than the elementary students. They are teens! Communication between the Member and students is critical for this program. Feedback from parents is limited but it is obvious that the young men and women who participate in this program see our AmeriCorps Member as a role model.
Our adult program began its third year in September providing English Language classes for adults who speak Haitian Creole. Most students are seeking assistance with employment-related classes and basic language skills. Classes range from basic to those who want to begin work on their GED.
On Making a Difference in Our Community
As a Library, we don't collect research level statistics. Much of what we know about the success of our programs is based upon observation and "impact statements" from those who use our services and their parents/caregivers. Oftentimes students' actions speak louder than words.
Boynton Beach has five Title I elementary schools. Even with the extra support that that brings, many of our students struggle. By observation, we see that students move ahead in their reading levels with help from our AmeriCorps tutors. Seven-year-olds tell you everything! They share their successes and concerns. Frankly, if they weren't feeling good about what they were learning, they would not be here and parents would not be asking for more summer help, as they have this year. Some of our students come each day while others only when they are having problems. Our members print hundreds of extra worksheets. They even help with special projects, such as science fair projects.  While there are thousands of kids in our five elementary schools and we are only able to help 400+ each year, AmeriCorps' impact on our families is huge.
On any afternoon, we have dozens of teens in the Library working on computers, working in the Virtual Zone (Apple Lab), and working on their projects. Again, we have students from at least five area high schools who seek out help, conversation, and support in their work. When we talk to other library colleagues, they are amazed that we have young men here working, more in fact, than young women. They may be working part-time but they still come to work with our AmeriCorps Member. Our first year with an AmeriCorps Member working with teens has been amazing. They really appreciate having someone near their own age; they talk and have "conversation sessions" on a wide-range of life topics; and they come when they need to discuss their difficulties in school, as well as their success. They all seem to have matured this year. It seems to me that we have fewer pairs of pants slipping to reveal underwear than we did (no statistics, just observation). Having a young male AmeriCorps member serving here has made a huge difference.
Our adults cried when classes had to be cancelled this year. That seems to say it all. Last year, we had more than 100 students in the four classes that we held daily. We celebrated new jobs with our students and many other life achievements. Most of our adult learners are new Haitian immigrants. Many have children participating in homework help. Their achievements are family achievements. Students range in age from late teens to senior citizens.
On Literacy Coalition
All of our interactions with the staff and AmeriCorps Members, in particular, are positive, and the people are thoughtful, strong, goal-orientated, fun, willing, understanding, and kind. When the Library staff thinks of the "Lit-Co", as it is called, we think and talk about the staff and their service. Their "can- do attitude" is a joy. In the Library we have the occasion to work with many groups and there are none like our AmeriCorps Members.
I find myself saying "our" Members. Yes, we have a great sense of ownership and partnership. We are still in contact with our former Members. I believe that the Members also have a sense of ownership, particularly of their students and their families, of the tasks to be done, and the challenges to be met.
They are about as good as it gets!
If There Was No Literacy Coalition
The Literacy Coalition does so much in the community and helps with so many programs. I can't respond generally except to say that we would be so much poorer if the agency didn't exist. As far as the Boynton Beach City Library is concerned, we would not be able to offer tutoring, homework help, SAT/ACT preparation, adult literacy and career help. The Literacy Coalition has facilitated the development of very positive relationships with others in the community who offer similar services. While we have not partnered officially with other groups, we have made some really good friends who may become partners.
Literacy AmeriCorps recruits, trains and supervises up to 40 members who contribute 68,000 hours of service in tutoring, mentoring and participating in meaningful community service projects.