Mirielle Moise, Village Readers
May 23, 2016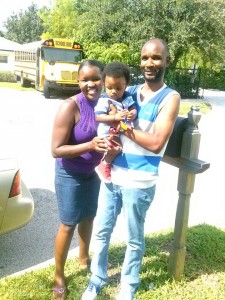 Mirielle Moise went through our Village Readers program from 2011 to 2013 – and she hasn't looked back. Originally from Haiti, she is married, has a young child, and is excelling as a top student at Palm Beach State College. Today, her husband is also in the program, moving through the advance level class and planning his own pursuit to success.
Here is Mirielle's story:
When I came to the Literacy Coalition, I knew only a little bit of English. My pronunciation was very bad. It was so hard for me to understand and speak English.
Everybody in the program was very helpful and special. The professor and volunteers really know the subjects. They taught us almost everything we needed to survive in the U.S. They showed us how to make a check, how to pay bills, how to use a computer, and how to fill out job applications. Every volunteer helped us with different things in life. They helped us listen to different American natives. They always came with different subjects.
My English improved significantly.
Look at me now. I can communicate really fast with everyone. I can understand every single course at Palm Beach State College (PBSC). I can do better in English than my own language. I am a full-time student at PBSC who is on the Dean's List with a GPA of 3.75.
I am so happy!
If I didn't come to the Literacy Coalition and gotten help with English, my life would be very different. I would be dependent on other people every time I needed to do something in English. I wouldn't be motivated to go to PBSC or if I did go, I would start everything at the beginning.
My plan is to stay at PBSC and complete the two-years program. I know I can do it. I'm determined, ambitious and excited for my future, thanks to all my new English skills.
Village Readers Family Education teaches adults the English they need to obtain a family-sustaining job and helps their elementary school age children improve their reading skills