The Grand Bee Features Literary Fun and Games
October 6, 2017
The Grand Bee to Benefit the Literacy Coalition Takes Center Court at The Gardens Mall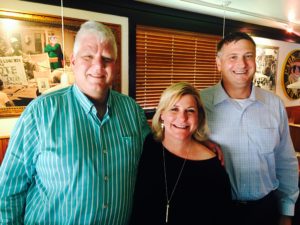 (L to R) Dean Lavallee, The Grand Bee Honorary Chair; Kimberly Lea, The Grand Bee co-chair; Matt Turko, The Grand Bee co-chair
A Night of Great Food, Fun and Literary Trivia with Game of Thrones Theme
BOYNTON BEACH, Fla., Sept. 25, 2017 – The Grand Bee promises to be like a game night with friends, only better! No pressure. No high-stakes competition. Just fun literary games, delicious food and a Games of Throne theme. And it's all to raise funds to help wipe out illiteracy in Palm Beach County.
The November 2 benefit starts at 6 p.m. in the Center Court of The Gardens Mall. A $3,000 donation for entry includes:
A table of 6;
A cocktail party with passed appetizers;
A seated 3-course dinner, with food selections from Brio's, Cooper's Hawk and P.F. Chang's;
Cocktails and s'mores at the new Park Avenue BBQ & Grille following the games.
The Grand Bee is an evolution of the Literacy Coalition's Great Grown-Up Spelling Bee. Instead of teams of 3 competing for a spelling bee championship, tables of 6 play 3 rounds of fun literary trivia games. Each round ends with points and prizes, with a grand prize awarded at the end.
Kimberly Lea of Keiser University and Matt Turko of Haile Shaw & Pfaffenberger, P.A., are co-chairs for the event. Dean Lavallee of Park Avenue BBQ is honorary chair.
For more information, visit www.literacypbc.org or call 561-279-9103.
About the Literacy Coalition of Palm Beach County
A recipient of the coveted 4-star Charity Navigator rating for eight consecutive years, the Literacy Coalition of Palm Beach County works to improve the quality of life in our community by promoting and achieving literacy. One in seven adults in our county is unable to read and understand information found in books, newspapers and manuals and nearly half of all third graders are not reading on grade level. Through extensive outreach and collaboration with a network of community partners, the Literacy Coalition strives to ensure that individuals who need to improve their literacy skills receive the help they need. By providing services to more than 27,000 adults, children and families each year, the Literacy Coalition's goal is for every child and every adult in Palm Beach County to be able to read.