Pink Shirt Day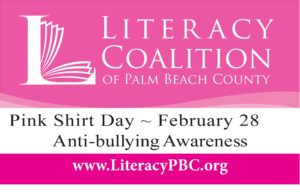 Join us as the community unites to celebrate Pink Shirt Day, an international anti-bullying event, in Palm Beach County. We have a new theme for 2018 and literature-based social emotional learning activities to share throughout the community. Our 2018 Palm Beach County theme is "Many Cultures, One Community."
Mark your calendars:


Pink Shirt Day

is February 28, 2018
FREE Training/Networking Sessions:

February 6, 2018 in Belle Glade
February 13, 2018 in Boynton Beach
Click on this link for more information about the Kick-Off:
Literacy Coalition Pink Shirt Day 2018 Networking and Training Announcement
Join the Literacy Coalition of Palm Beach County's Turning Bullies into Buddies program and Prime Time Palm Beach County, along with their community partners, to support bullying prevention. WEAR PINK on Wednesday, February 28, 2018 to encourage youth across Palm Beach County to continue reading and to learn bullying-prevention skills and strategies.
Wear something pink from your own closet or support our community efforts to unite by purchasing an official Palm Beach County T-shirt. Click on the links below for more information and the order form:
Literacy Coalition Pink Shirt Day 2018 Flyer
Literacy Coalition Pink Shirt Day 2018 Order Form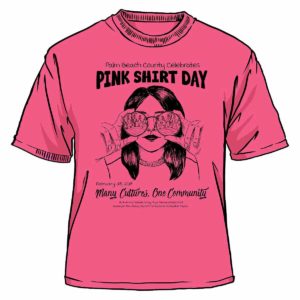 Pink Shirt Day originated in Canada when a high school freshman was bullied for wearing a pink shirt to school. The next day, students created a 'Sea of Pink' by wearing pink shirts to send a message to unite against bullying.
Each year, our Turning Bullies into Buddies program shares literature-based activities to teach social emotional skills. This year's theme is "Many Cultures, One Community." The literature-based activities are designed to increase youth's ability to accept and respect differences. It is our goal to reduce culturally or diversity-motivated bullying among children. Free activity plans and books are available at this year's Pink Shirt Day Networking and Training Kick-off event. Please register to attend at: primetimepbc.org. And click here for the 2018 Elementary School Age Reading List: 2018 Reading List.
Congratulations to Michaela McCoy, a student at Royal Palm Beach High School for designing a winning illustration for the front of this year's official Palm Beach County Pink Shirt Day T-shirt. Michaela did an excellent job utilizing her incredible artistic talents to highlight this year's Palm Beach County theme: "Many Cultures, One Community."
Thank you to our funders and supporters: Prime Time Palm Beach County, Children's Services Council and 2SBW & Associates General Contractors.
Thank you to our 2018 Community Partners:
School District of Palm Beach County
Palm Beach County Youth Services Department
Palm Beach County Parks and Recreation Department
Palm Beach County Library System
City of Delray Beach
City of West Palm Beach
City of Greenacres
Yesteryear Village at South Florida Fairgrounds
Contact Nancy Birardi at nbirardi@literacypbc.org for more information or click this link: https://www.literacypbc.org/event/pink-shirt-day-2/