ReaderCorps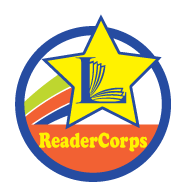 If you are a student registering to be a Readercorps member, click here
If you are a school or group administrator wanting to register students, click here
In 2017, the Literacy Coalition launched a new youth initiative, ReaderCorps. Any student kindergarten through twelfth grade – whether attending a public school, charter school, private school or home-school can be a member. The mission is to provide meaningful service opportunities for children and teens that make them excited about reading while supporting literacy in Palm Beach County. Members organize book drives, coordinate buddy reading programs, host literacy themed events at their school, organize book clubs and participate in the Literacy Coalition's county-wide Read-a-Thon.
Highlights of the 2017 Campaign:
300 K-12 students from public, private, charter and homeschools throughout Palm Beach County enrolled as ReaderCorps members.
Members received free books and prizes in the mail for reading during our Read-a-Thon and community service hours for designing literacy-based volunteer projects, such as book drives, buddy reading programs, etc.
Author James Patterson spoke at our ReaderCorps finale celebration and all attendees received an autographed book.
Even before launching the 2017-2018 campaign, we have signed up 215 classroom teachers and media specialists who want to be involved and involve the students in their class.
While many of our members continued working on service projects and book drives throughout the summer and fall, the 2018 ReaderCorps campaign kicks off during Florida Literacy Week, January 22-26 and will run through the end of April.
ReaderCorps 2018 will conclude with a recognition ceremony at the end of April. We will honor the youth, schools and groups who have embraced the true spirit of the campaign and helped to make Palm Beach County a community that values literacy.
Upcoming Events: Check back regularly
Follow us on: Facebook and Instagram for campaign updates
For questions and more information, email to: ReaderCorps@LiteracyPBC.org