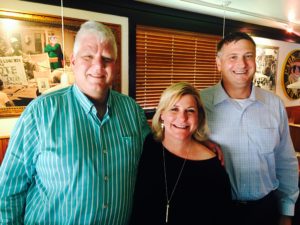 (L to R) Dean Lavallee, The Grand Bee Honorary Chair; Kimberly Lea, The Grand Bee co-chair; Matt Turko, The Grand Bee co-chair.
The Grand Bee to Benefit the Literacy Coalition Takes Center Court at The Gardens Mall
A Night of Great Food, Fun and Literary Trivia with Game of Thrones Theme
BOYNTON BEACH, Fla., Sept. 25, 2017 – The Grand Bee promises to be like a game night with friends, only better! No pressure. No high-stakes competition. Just fun literary games, delicious food and a Games of Throne theme. And it's all to raise funds to help wipe out illiteracy in Palm Beach County.
The November 2 benefit starts at 6 p.m. in the Center Court of The Gardens Mall. A $3,000 donation for entry includes:
A table of 6;
A cocktail party with passed appetizers;
A seated 3-course dinner, with food selections from Brio's, Cooper's Hawk and P.F. Chang's;
Cocktails and s'mores at the new Park Avenue BBQ & Grille following the games.
The Grand Bee is an evolution of the Literacy Coalition's Great Grown-Up Spelling Bee. Instead of teams of 3 competing for a spelling bee championship, tables of 6 play 3 rounds of fun literary trivia games. Each round ends with points and prizes, with a grand prize awarded at the end.
Kimberly Lea of Keiser University and Matt Turko of Haile Shaw & Pfaffenberger, P.A., are co-chairs for the event. Dean Lavalle of Park Avenue BBQ is honorary chair.
For more information, call 561-279-9103.