AmeriCorps Alumni
A year of service with Literacy AmeriCorps can be an important part of your career development and a great way to build your resume for future opportunities.

Sara Gershon, Class of 2013-14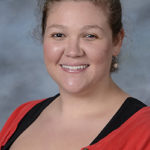 Hi! I am Sara Gershon and I served with Literacy AmeriCorps from 2013-2014 as an Elementary School Reading Tutor. In addition to my role as a reading tutor, I was on the Member Development team, where I was able to cultivate my leadership skills by helping to plan and execute our weekly Friday Trainings. Since successfully completing from the program, I have been attending the University of Georgia School of Law, where I am pursuing a joint J.D./M.S. in Sport Management and Policy. In addition to school, I work as a reading comprehension mentor and writing center tutor for the UGA Athletic Association. In this position, I use the skills I learned as an AmeriCorps member every day. I have the pleasure of working with student-athletes, helping them to overcome some of the same hurdles faced by the students I tutored as an AmeriCorps members.
My time in this program was life affirming. I learned both that I did not want to be a teacher and that I would always find a way to serve the underserved populations in my community in a mentorship/educational capacity. People often think the draw to the sports industry is the money. For me, it is far from that. During my AmeriYear, I realized that what made me feel the most fulfilled day in and day out was working with those that lacked guidance or confidence and knowing I could help them to realize their full potential. My proudest moments in AmeriCorps were seeing my students take ownership of their progress and walk the school halls with pride. I get that same feeling working with student-athletes and hope to one day get that feeling working with professional athletes.
My advice to you is: Be open to every adventure. Take every opportunity you get, even if it doesn't pay (a lot). You might earn something better in the experience itself. I know I did!
Brandon Carroll, Class of 2014-15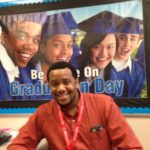 My name is Brandon Carroll and I am originally from Charlotte, North Carolina. I graduated in the spring of 2014 from the University of North Carolina at Greensboro where I studied Education and Sociology. I have always had a passion for helping people and helping students achieve.
I had the honor and privilege to serve as a Graduation Coach, and I loved every minute of it! Being that I have an education background and I have worked with students from Kindergarten all the way up to middle school, I figured I challenge myself and see if dealing with High Schoolers was really what I wanted to do in life. I can say it is safe to say that I learned a lot during my service year and it has helped shape me into how I want to spend the rest of my life.
My students taught me a lot more than I could ever teach them by opening up to me and allowing me to understand how hard it is sometimes for a high school student to graduate, and they would always thank me for just being there to support them through their own journey onto graduation.
When the service year was over, it was saddening to see a lot of the friends I made through AmeriCorps move away to different parts of the country to pursue other jobs, or education, or just life goals. However, staying down here in Palm Beach County was one of the best decisions I could have made for after my service year! I am currently the College Retention Coach for Take Stock in Children Palm Beach County, and as of the summer of 2016 I will become the Director of College Retention. Take Stock in Children gives out scholarships and mentors to low-income, at-risk youth, in order to instill hope in them that they too can go to college. My job is to help, advise and support the recipients of our scholarship from being high school seniors, all the way through college graduation!
I still am connected to AmeriCorps in spirit by many ways, from seeing new AmeriCorps members daily at my job, to visiting and bonding with old AmeriCorps friends that are still around. AmeriCorps will always have a special place in my heart, and as for my future plans, I am pursuing my Masters in Higher Education Administration and I know that one day I hope to work for a College or University in Admissions, Student Life, or even the Retention Department. I just know that no matter where life takes me, I will forever be grateful for the experience, the joy, and the laughter that my service year in AmeriCorps has given me. Thanks again for allowing me the opportunity to better myself as a person, and I will always continue to #GetThingsDone.
Michael Owen, Class of 2012-13 & 2013-14
I had the honor of serving with Literacy AmeriCorps for two years. During my first year, I served as a Job Readiness Instructor with The Lord's Place, a non-profit organization that works to end the cycle of homelessness in Palm Beach County. My second year afforded me the opportunity to work side-by-side with a Language Arts/Life Skills teacher at EdVenture Charter School, a vocational institution that empowers 15-22 year olds with job skills and a renewed sense of self-worth.
Currently, I am serving as a Peace Corps Volunteer in Colombia, South America. I am living in a small, rural community on the Caribbean coast called Repelón. Here, I am serving as a teacher trainer and work closely with about three English teachers, helping them develop and refine their abilities to teach English to their students. Outside of working with these teachers, I also currently have three community English classes, in which members of the community have the ability to learn some basic English skills. In addition to these classes, I also work one-on-one with the local police chief, helping him improve his English abilities so he may receive a promotion in the future.
My time with Literacy AmeriCorps further solidified the fact that teaching is my life and my passion. AmeriCorps helped lead me to finally realizing my lifelong dream of serving with the Peace Corps. The values and sense of civic responsibility that I learned during my time in AmeriCorps have carried over to my service overseas. The confidence and leadership skills that I attained have made integration into my new community much easier and have helped me to be a successful contributor to those around me here in Colombia.
Janet Newton, Class of 2011-12
I served as a Literacy AmeriCorps member from 2011 to 2012, tutoring adult ESOL students. This program gave me experience serving others in a way I don't think I could have on my own, particularly considering my newness to the professional world. Being at my primary site solidified my knowing I wanted to work with English language learners, but visiting others' sites and arranging and participating in service projects exposed me to a wide variety of organizations I wouldn't have otherwise gotten to learn about. The professional development and dear friendships enriched my time in South Florida even further.
Following this year of service, I did a second with another literacy organization in Boston called Generations Incorporated. I then put my education award to use toward a Master of Arts in Teaching in Elementary Education from the University of South Carolina. I am currently working as an ESOL Tutor for a school district in Columbia, SC, serving students from kindergarten to fifth grade.
Andy Chiamopoulos, Class of 2010-11
Hi! My name is Andy Chiamopoulos and I was a Literacy AmeriCorps member in 2010-2011. During my service year I taught a GED program at Bridges Riviera Beach in the morning and provided reading tutoring to children at the Boys and Girls Club of Riviera Beach in the afternoon. Since completing my year in AmeriCorps, I graduated with a Master's in Public Policy from Duke University and have served in a variety of analytical roles for several organizations. Currently I am a Senior Analyst with the Federal Reserve Bank of Kansas City, where I help manage a project for the U.S. Treasury. I am also happy to say that I recently married my wife, whom I met while we were both Literacy AmeriCorps members!
My experience in AmeriCorps enlightened me to the issues currently faced by children and adults seeking a quality education, particularly those from low-income families, and weighed heavily on my decision to study public policy in graduate school. My service year also reinforced the importance of patience, having compassion, and showing respect to others, which are principles that will guide me over the course of my career.
Rondre Ashford, Class of 2011-12
After the completion of my AmeriCorps program, I accepted a position as an Assistant Residence Life Coordinator at Florida International University (FIU). After two years at FIU, I graduated with a Master of Science degree in Higher Education Administration. Currently, I live in Southern California, and I work at San Diego State University (SDSU) as a Residence Hall Coordinator & Judicial Officer. I honestly think that my AmeriCorps experience has helped shape my work ethic and caring attitude towards individuals I interact with. Additionally, AmeriCorps taught me the importance of being selfless, and the importance of working with others to reach a common goal. As an AmeriCorps member, I served as a Graduation Coach at Village Academy. I interacted with students as a mentor, and helped motivate students to achieve academic success. The skills I obtained by working as a Graduation Coach, have been transparent in my current position as a Residence Hall Coordinator & Judicial Officer. For example, I always make my students a priority, and I always make myself available when others are in need. I've gained an appreciation for the little things in life that we take for granted and embrace new challenges and opportunities. Overall, being a member of Literacy AmeriCorps helped me professionally, and I will never forget the importance of giving back and serving our community.
Megan Conners, Class of 2009-10

Literacy AmeriCorps led me onto a life path I never could have imagined prior to joining.  During my service year at Glades Family Education in Belle Glade, I discovered my true passion: teaching ESOL (English for Speakers of Other Languages) to adult learners.
Today I am a full-time ESOL teacher at the Adult Education Center in West Palm Beach; I have my ideal job with an incredible community of co-workers.  I accredit much of my good fortune to the abundance of opportunities and support I was given by the AmeriCorps coordinators and members, as well as the amazing connections I was able to make as a result of my volunteer experience.
Every day instead of saying that I "have to go to work," I now say that I "get to go!"  This sentiment is invaluable to me, and I am so grateful to Literacy AmeriCorps for helping me to realize my passion so that I can continue to share it with others now and in the future.
Bailey Lowenthal, Class of 2009-10
After finishing my year as a Graduation Coach with AmeriCorps I was hired at the school where I completed my service to design and implement a two tiered drop out prevention program. My year of service not only helped me obtain a full time job but it solidified my career aspirations. Working so closely guidance staff allowed me to explore a career option I may have otherwise dismissed. I went back to school and received my Masters in School Counseling at the Harvard Graduate School of Education. Currently, I work as the Director of School Counseling at a new public charter school in Washington, DC.
Brandon Light, Class of 2009-10 and 2010-11
I had the privilege of serving two consecutive years with Literacy AmeriCorps Palm Beach County.  During that time I was able to have once in a lifetime experiences that changed my perspective on life.  Tutoring children and teaching adult ESOL was unforgettable.  AmeriCorps also gave me numerous social and career opportunities that I otherwise would not have had.   It helped me to grow my professional network and ultimately secure a job at an amazing non-profit organization.
I am now the Manager of Resource Development at United Way of Palm Beach County and I could not be happier.  It is rewarding to know that the work I do every day is helping to give individuals and families better lives.   I know that I would not be where I am today if I didn't join Literacy AmeriCorps Palm Beach County!
Dawn Allen

After a rewarding year teaching Adult ESOL in Belle Glade, I moved to Austin, TX.  Thanks to my many experiences with AmeriCorps, I had the chance to get involved with English at Work, a nonprofit organization committed to providing English language instruction to low income employees at the job site.  Our vision is to use language proficiency to build more democratic workplaces and stronger communities.  You can check us out at www.austinenglish.org.
My official title is Lead Teacher, but because we are a new organization and still very small, I've had the opportunity to be involved in a bit of everything – from teaching and designing curriculum, to working with volunteers, participating in strategic planning sessions, writing grant proposals, etc.  After a series of jobs that weren't fulfilling and didn't make me happy, I've finally found a job I love!
Mary Fuller
Since becoming an AmeriCorps member, my life has completely changed for the better. Last year I came down from Wisconsin, and was placed at In the Pines North and Village Readers Family Education Program. I had the privilege of working with some wonderful kids and dedicated adults with literacy tutoring and teaching. My perspective on life completely changed and I realized how my life's problems are very small compared to the true challenges of someone without literacy skills. It is something that everyone takes for granted in their daily lives. I also realized that I am only one person, but I am still one person, with much to give back to the world. I am who I am today because of the humbling experiences I've had, the guidance of my Coordinator, and the friends I've made for life.
Allison Goff
I made the choice to join Literacy AmeriCorps just before graduating from Michigan State University. As a graduating senior, I was eagerly looking for an opportunity to apply what I had been studying in school, socially, I was also looking for the opportunity to challenge myself in a new environment and meet new people. After meeting the staff of the Literacy Coalition of Palm Beach County and beginning work at my service site, a charter high school, I knew I was in the right place!
After completing a second year of service, I was hired by my service site to continue teaching the course I developed during my second service year, Intensive Reading. Then, ready for new challenges and armed with a Florida Department of Education Teaching Certificate (earned while I was an AmeriCorps Member), I was hired by the Education Department of the Henry Morrison Flagler Museum. Now, I am the Education Director and I continue to use the skills I learned as a volunteer to write and implement educational programming and historical interpretation for all ages, collaborate with other cultural organizations both locally and nationally, and manage a staff of professionals and volunteers.
Amanda Lindberg
After my year serving the In the Pines and Even Start programs, I have returned to my original career aspiration of teaching Social Studies. I am currently teaching 8th grade US History at Ramblewood Middle School in Coral Springs, FL. I still visit my wonderful kids and families at my AmeriCorps programs as often as I can, which is never enough. I feel that I learned more than I actually taught during my service year, which has only enhanced my effectiveness as a traditional classroom teacher. I am now able to bring a wealth of experience, knowledge, and patience to a whole new population of students. A quick thanks to Kay Larche, Audrey McDonough, and my team, without whom I would not be the teacher or the person I am today. Thank you all from the bottom of my heart!
Amanda Meyers
My AmeriCorps year afforded me the opportunity to network with professionals in my field, throughout the state of Florida.  Due to these opportunities, I was able to sign on with an upcoming project in West Palm Beach (quite quickly after my service year ended).  I was offered an amazing chance to work with a reputable non-profit organization to create, plan, and implement a program designed to help youth who are aging out of the foster care system.  I am employed with Vita Nova of Renaissance Village.  The program provides safe affordable housing for former DCF and homeless youth.  The housing aspect is accompanied by a program in which I provide life skills courses for the youth.  We focus on providing a safe and loving atmosphere to help guide our youth into independence. I feel fortunate to be in a line of work that is both rewarding and fulfilling.
Krystie McCarson
After finishing an incredible year of my life serving with Literacy AmeriCorps, I decided to continue my service in another part of the world.  I didn't know that my search would lead me literally to the other side of the world and landed in South Korea.  Koreans desperately want to learn English and I desperately want to teach them.  EPIK (English Program in Korea) is the program I work for and they place hundreds of native English speakers in public and private schools throughout Korea every year.  I taught middle school and elementary school ESL, and I've also picked up some private tutoring and Adult ESL classes in the evenings.  Life in Korea is great, EPIK provides a fully furnished 'western style' apartment and the people here are extremely friendly and accommodating to foreigners.  Overall, next to AmeriCorps, this has been one of the most rewarding experiences of my life.  I've been able to fully immerse myself in Korean culture and continue reaching and serving people to increase English literacy around the world!
Liz Mishoe
Right out of college I wasn't sure what I wanted to do.  I had done some volunteering in the past and enjoyed it so I joined Literacy AmeriCorps and was placed at an adult education center as an ESOL and reading tutor.  There I learned about the needs of our community and I was inspired to make a lifelong commitment to service.  AmeriCorps also helped me discover who I am – my talents and passions – and gave me the confidence and competence to follow my dreams and live the life I have always envisioned for myself.  Since my two years of service (I did it a second year because I loved it so much) I have lived and worked in Spain, Argentina, and Colombia as an English teacher and now I'm back in the States and constantly planning my next adventure.  In short, life is great!
Hilary Sullivan
Since completing Literacy AmeriCorps in 2005, I have continued to work in the field of literacy. I spent 3 years working in family literacy programs in Washington DC. From there, I moved to Boston to manage a part time AmeriCorps program focused on developing language and literacy skills in preschoolers. I am the Jumpstart Site Manager at Wheelock College in Boston. I recruit, train, and support 50 freshman and sophomore college students who are paired one to one with a low income preschool child for an academic year to help prepare them to enter Kindergarten. I am extremely fortunate to combine my passion for education with my dedication to national service in my current job. I am grateful to Audrey and the Literacy Coalition of Palm Beach County for giving me the opportunity to serve and for inspiring and encouraging me on the path that I have chosen.
David Zell
Hello, there! My name is David Zell and I completed my Literacy AmeriCorps year in 2006 where I served at EdVenture Charter School. AmeriCorps not only expanded my worldview and provided me the opportunity to affect change in a small portion of Palm Beach County's diverse community, but it also primed me for a lifelong career geared towards altruistic and humanitarian causes. Employers, friends and co-workers alike, continue to laud my experience as a Literacy AmeriCorps volunteer, as it has greatly enhanced my employability, increased my professional skill set and provided me with a network of lifetime friends.
I currently live in downtown Raleigh, NC where I work full time on a federal grant for the Governor's Institute – a wonderful, small, private nonprofit on NC State's Centennial Campus . As Program Coordinator for the Homeless Veterans Providers Technical Assistance Center, I assist with the planning, implementation, coordination and evaluation of the project's effort. The VETTAC provides grant writing workshops to community providers throughout the United States interested in establishing transitional housing programs for homeless veterans.
I have recently been admitted to the University of Chapel Hill's School of Social Work Management and Community Practice program, which will prepare me for a leadership career in organization and community development and for social interventions in larger systems. My AmeriCorps experience was an integral factor in my both my decision to become a Social Worker and my acceptance into the program.
Please feel free to contact me at david.zell@gmail.com or 919-302-1738 should you have any questions about my experience with the Literacy AmeriCorps program!
A Service Year with Literacy AmeriCorps
Where do Literacy AmeriCorps Members Serve?