Partners
Featured Partner:
AmeriCorps, Boyton Beach City Library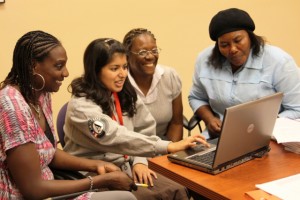 AmeriCorps members are a vital part of helping to improve literacy in Palm Beach County. These hardworking college grads work with agencies across our community to improve reading outcomes for children and adults.
Boynton Beach City Library is one of our partners in the program. Anne Watts, assistant library director at
 Boynton Beach City Library, explains how AmeriCorps members contribute to the community, summarizing our Members: "They are about as good as it gets!"
Thank you to our program partners for investing in literacy:
21st Century Community Learning Centers
Achievement Centers for Children & Families
Adopt-a-Family of the Palm Beaches
After School Connections at Franklin Academy
Amicus Medical Group
Ann Norton Sculpture Gardens
April is for Authors
The ARC of Palm Beach County
Atkins Tender Loving Care Center
Barnes & Noble
Believers Academy
Belvedere Elementary
Benoist Farms Elementary
Berkshire Elementary Afterschool
Boca Raton Elementary
Boca Raton Elementary Afterschool
Boynton Beach City Library
Boys Town South Florida
Bridges at Belle Glade
Bridges at Boynton Beach
Bridges at Highland
Bridges at Lake Park
Bridges at Lake Worth
Bridges at Lake Worth West
Bridges at Northwood
Bridges at Pahokee
Bridges at Riviera Beach
Bridges at West Palm Beach
Bright Futures Child Development Center
Brito Medical Center
Carlos Viera-Santos, MD
Center for Family Services of Palm Beach County
Children's Care Center
Children's Clinic
Children's Physicians
Children's Services Council of Palm Beach County
Cholee Lake Elementary Afterschool
City of Greenacres C.A.R.E.S.
City of West Palm Beach
C.L. Brumback Primary Care Clinics/Health Care District of Palm Beach County: Healy Center
CO Taylor/Kirklane Elementary Afterschool
Coleman Park Community Center
Community Partners, Inc.
Coral Sunset Elementary
Creative Learning Experience
Delray Pediatrics
DeVos-Blum Family YMCA of Boynton Beach
Diamond View Elementary Afterschool
Dolly Hand Cultural Arts Center
Dr. Mary McLeod Bethune Elementary
Easter Seals/Igoe–Amar Child Development Center
Edna Runner Community Center
EdVenture Charter School
Egret Lake Elementary Afterschool
El Sol
Faith Farm Ministries
Faith's Place
Families First of Palm Beach County
Family Health Care Services
Farmworker Children's Center, Inc.
Florence Fuller Child Development Centers
Forest Hill Elementary Afterschool
Forest Park Elementary
Foundcare
Freedom Shores Elementary Afterschool
Frenchman's Creek
Galaxy E3 Elementary
Galaxy Elementary Afterschool
Gentle Medicine
Glades Initiative
Global Learning Center
Gove Elementary
Greenacres Elementary Afterschool
The Guatemalan-Maya Center
Gulfstream Goodwill's Transitions to Life Academy
Hammock Pointe Elementary
Healthy Mothers Healthy Babies Coalition of Palm Beach County, Inc.
Heritage Elementary Afterschool
Highland Elementary Afterschool
Holy Cross Catholic Preschool and Center
HomeSafe
Hope-Centennial Elementary
Indian Pines Elementary
Indian Pines Elementary Afterschool
In the Pines, Inc.
J.C. Mitchell Elementary
Jean Y. Monice, MD.
Juan Batista, MD, PA
Junior League of Boca Raton
Jupiter Elementary
Jupiter Pediatric Associates
K.E. Cunningham/Canal Point Elementary
Kiddie Haven Preschool, Inc.
Kids R Kreative Learning Center
Lake Park Elementary
Lake Park Elementary Afterschool
Lake Shore Apartments
Lake Worth Pediatrics
Lantana Elementary
Lantana Elementary Afterschool
The Lord's Place, Inc.
Loving Tender Pediatrics
Mandel Public Library of West Palm Beach
Milagro Center
Mission Medical Center
My First Steps Preschool
National Council of Jewish Women
SE Atlantic Section
New Hope Charities
Opportunity Early Childhood Education Center
Orchard View Elementary
Pahokee Pediatric Associates
Palm Beach County Education Commission
Palm Beach County Health Department
Palm Beach County Library System
Palm Beach Gardens Elementary Afterschool
Palm Beach Pediatrics
Palm Springs Elementary Afterschool
Pearl City C.A.T.S.
Pediatric Associates
Pediatric Center of Belle Glade
Physicians Park Medical Group
Pine Grove Elementary Afterschool
Pine Jog Elementary
Pioneer Park Elementary
Plumosa School of the Arts
Prime Time of Palm Beach County
Redlands Christian Migrant Association
Rolling Green Elementary
Roosevelt Elementary
Royal Palm Pediatrics
Safe Haven Community Resource Center
The School District of Palm Beach County
Seitz Pediatrics
Seminole Trails Elementary
Soma Medical Center
South Grade Elementary
South Olive Community Center
South Olive Elementary Afterschool
Spirit of Giving Network
Starlight Cove Elementary
St. Joan of Arc Catholic Church
Summerfields Farm
Take Stock in Children
Tenet Florida Physicians Services
Thelma B. Pittman Jupiter Preschool
Tiny Tikes Academy
Village Academy
Vita Nova
West Gate Elementary Afterschool
Westward Elementary
Women's Circle
YWCA Child Development Centers
Zion Lutheran Afterschool
Our apologies to any partner that may have been inadvertently omitted.