2017 Loop for Literacy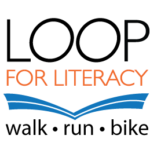 Click here to REGISTER or to become a sponsor!
The seventh annual Loop for Literacy is scheduled for February 4, 2017 at John Prince Park. Your participation in this family friendly, healthy event and pledges of support from families and friends benefit the programs of the Literacy Coalition of Palm Beach County that ensure that adults, children, youth and families gain the literacy skills necessary to succeed in life. Enjoy family friendly activities for kids of all ages and a delicious lunch following the walk, run and bike ride.
Choose from:
Cycling: Road – $50.00
Ride begins at 7:00 a.m
Run: Adult – $35.00 | Student K-12 – $15.00
5k run begins at 8:00 a.m.
Walk: Adult – $35.00 |Student K-12 – $15.00
5k walk begins at 8:15 a.m.
Fun Ride: Family Friendly in Park
Adult– $25.00 | Student K-12 – $10.00
Ride inside the park begins at 9:00 a.m.
"Virtual" Participant – No Fee
2016 Event Summary:
The sixth annual Loop the Lake for Literacy on February 28 included more than 200 cyclists riding around Lake Okeechobee in increments of 14, 34, 68 or the full 115 miles.
We recognize Florida Crystals, the Loop Presenting Sponsor for five years in a row – and thank them along with Domino Sugar for helping to open the world of literacy to hundreds of new readers! The ride raised more than $85,000 to support vital literacy programs that assist children and adults. We thank Dolly Hand who served as our Honorary Chairman, Park Avenue BBQ & Grille for providing lunch and cyclist Bill Sanderson for raising the most funds of all the participants.
We are grateful to the leadership of this event including Event Chairman Tom Streit of Akerman LLP, Founding Chairman Steve Leveen of Levenger Foundation, Rob Kennedy of Daruma Tech, Elizabeth Cayson of the Healthcare District of Palm Beach County and Kathy Metzger of Florida Crystals.
Event Photos
128 Photos