Read for the Record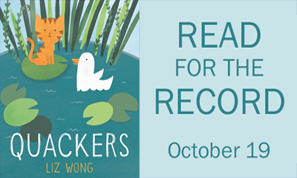 Thank you to all the volunteers who read Quackers by Liz Wong on October 19 as the 2017 Read for the Record. Thank you PNC Foundation for their continued support of this campaign and thanks to Tania Rogers of WPTV Newschannel 5 for being our celebrity reader!
Submit your numbers so we can include you in the count.
Last year's Read for the Record Summary
More than 2.35 million children and adults participated in the world's largest shared reading experience, Read for the Record® on October 27. Volunteers gathered in small towns, cities and rural communities – in all 50 states – to learn, laugh, and read The Bear Ate Your Sandwich by Julia Sarcone-Roach.
The Literacy Coalition celebrated the 2016 Read for the Record by coordinating 438 adults who read to 15,647 children at 446 childcare centers and schools throughout Palm Beach County. The campaign was funded locally by PNC Bank.
Children from Tiny Tikes, Glades Family Education Program and Achievement Centers for Children and Families Delray Beach listened to a reading of The Bear Ate Your Sandwich and participated in fun activities at the Blume Literacy Center in Boynton Beach. Guest readers included Tania Rogers of WPTV NewsChannel 5 and Kim Reckley of PNC.
Mayors and public officials competed in our annual contest to see which municipality would have the greatest number of community leaders reading: 119 municipality officials and staff read at 56 sites to 3,721 children. The winner for the larger cities was the City of Boynton Beach and the winner for smaller municipalities was the Town of Lantana. Honorable mentions went to the Village of Palm Springs, City of West Palm Beach and the City of Lake Worth.
We thank everyone who supported Read for the Record and give a special thanks to the members of the Palm Beach County Fire Rescue for their great participation.
See Event Photos
26 Photos
26 Photos