Literacy AmeriCorps, The Lord's Place
May 23, 2016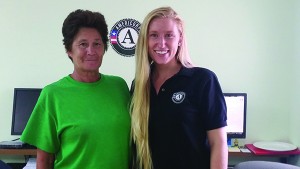 Our AmeriCorps Members help educate the clients of Lord's Place in West Palm Beach, which provides innovative programs focused on breaking the cycle of homelessness. Our Members teach reading and employment literacy skills that are necessary for these individuals to find work and lead successful and productive lives.
James Rhoads, the Lord's Place director of training and education, explained the impact our "ambassadors of education" are having at his agency and on the broader community.
AmeriCorps Service Members play a vital role at the Lord's Place.  In 2015, there were three service members assigned to the Lord's Place.  While all worked as one-on-one tutors assisting clients with reading, GED preparation, job searching strategies, each served different roles within the agency.  Specifically, one AmeriCorps tutor worked at Sago Palm Correctional Facility providing inmates an opportunity to acquire literacy and employment skills prior to being released back into the Palm Beach Community. The second AmeriCorps Service Member performed as a tutor and mentor primarily at the Lord's Place's main campus. The third AmeriCorps Service Member provided service as a teacher assistant in our Job Ready Program.  This teacher assistant facilitated the delivery of our employment curriculum and provided one-on-one assistance helping clients in the development of a resume, cover letter and completion of employment applications.  Additionally, all AmeriCorps Members assisted clients with methods, strategies and techniques to answer tough interview questions in preparation for mock and employment interviews.
On Making a Difference in Our Community
AmeriCorps Service Members impact the lives of more than 300 clients each year at the Lords Place. Their heartfelt caring effort along with other Lord's Place Staff, many times, provides the missing human link for many homeless who come through our agency. Their efforts play and provide an integral part in assisting clients to graduate their Job Ready Class, complete a successful mock interview, and prepare them for an apprenticeship opportunity. For many, they contribute to finding clients employment, as participants haven't been in a formal class setting for many years and lack computer skills and possess low educational levels in reading. Clients for the first time begin to develop professional relationships with AmeriCorps Service members.  Clients depend on their expertise and support with computer technology as they begin for the first time to believe in themselves, again learning how to type in Microsoft Word and create personal presentations in PowerPoint.
As a non-profit with a mission to break the chain of homelessness, the Lord's Place seeks many resources to complement our variety of skilled workers as we provide the highest level of services to the homeless.  The Literacy Coalition, in fact, plays a vital role in helping to provide those additional resources to the Lord's Place and many other community partners with similar missions in Palm Beach County.
The Literacy Coalition has the task of recruiting, training and empowering our AmeriCorps Service Members to serve clients who need reading and employment literacy skills. Primarily they teach, mentor, coach and tutor while they prepare and deliver motivational lessons and activities that engage our clients at a high interest level.  Moreover, they add a degree of positivity and contribute to the professionalism of our organization through their educational support and volunteer service.
Without these ambassadors of education additional strain on nonprofit budgets may be realized.  Moreover, current funding does not provide monies for tutoring literacy. Consequently, our clients would miss out on this vital support service.
Literacy AmeriCorps recruits, trains and supervises up to 40 members who contribute 68,000 hours of service in tutoring, mentoring and participating in meaningful community service projects.